If you're looking for an efficient way to make hot and/or chilled water without using fossil fuels, the LG Hydro Kit may be just what you need. The Hydro Kits pair up to LG's Multi-V condensers, providing VRF industry-leading technology and performance. Offered in 2 different versions and several different sizes, there are a wide variety of applications that can utilize this awesome technology. So if you're in the business of finding cutting edge solutions to complex HVAC challenges — check out this blog to see why your next project might benefit from LG's Hydro Kit!
The Benefits of the LG Hydro Kit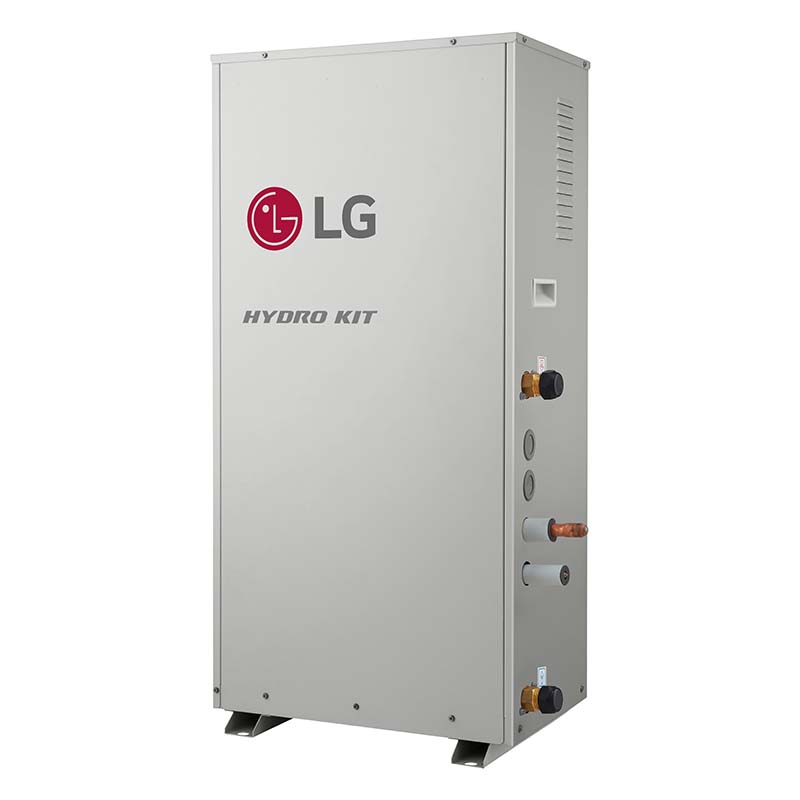 The LG Hydro Kit is offered in 2 versions; medium temp and high temp. The medium temp version can produce chilled water down to 41F and hot water up to 122F. The high temp Hydro Kit is a heating-only unit but can produce leaving hot water temperatures up to 176F. With leaving water temperatures that close to the typical 180F target of traditional hydronic boiler systems, you can theoretically replace gas or oil fired boilers with LG VRF air source heat pumps and hydro kits.
Historically, heat pumps in the northeast were not capable of providing adequate low ambient heating, let alone a version delivering hot water over 170F. So during those times the only alternative system that would not burn fossil fuels would be electric boilers or hot water heaters. The electric resistance heating elements in those units generate 3414 btus/hour of heat for every 1000 watts of electrical input.
For areas with relatively expensive electricity like the New York Metro area, this is not an economical way to heat a building or home. With the introduction of new heat pump technologies like the LG Multi-V 5, every 1000 watts of electrical power is now creating double the heating output of electric resistance heating or higher (depending on a variety of factors) making operating costs very attractive compared to other sources.
If systems like this are powered by renewable sources like solar or wind power, homes and businesses can be producing heating without any emissions or fossil fuel consumption which is great for the planet. Additionally, since these heat pumps will use half or less of the electricity compared to resistance heating they can help stretch those renewable power resources further limiting the reliance on the power grid while saving on energy costs.
Efficient Use of Interior Space
For metropolitan areas like New York City, interior space is a scarce resource in limited supply. Traditional boiler systems have to be housed in a dedicated boiler room which eats up considerable interior space. The LG Hydro Kit is a split system type where half of the system is located outdoors and the other component is indoors. The Hydro Kit is much smaller in footprint compared to a boiler and the service space requirements are often times less than a traditional boiler. All of this leads to more usable interior space, which can be a very good thing in markets with sky-high real estate costs.
Flexibility in Design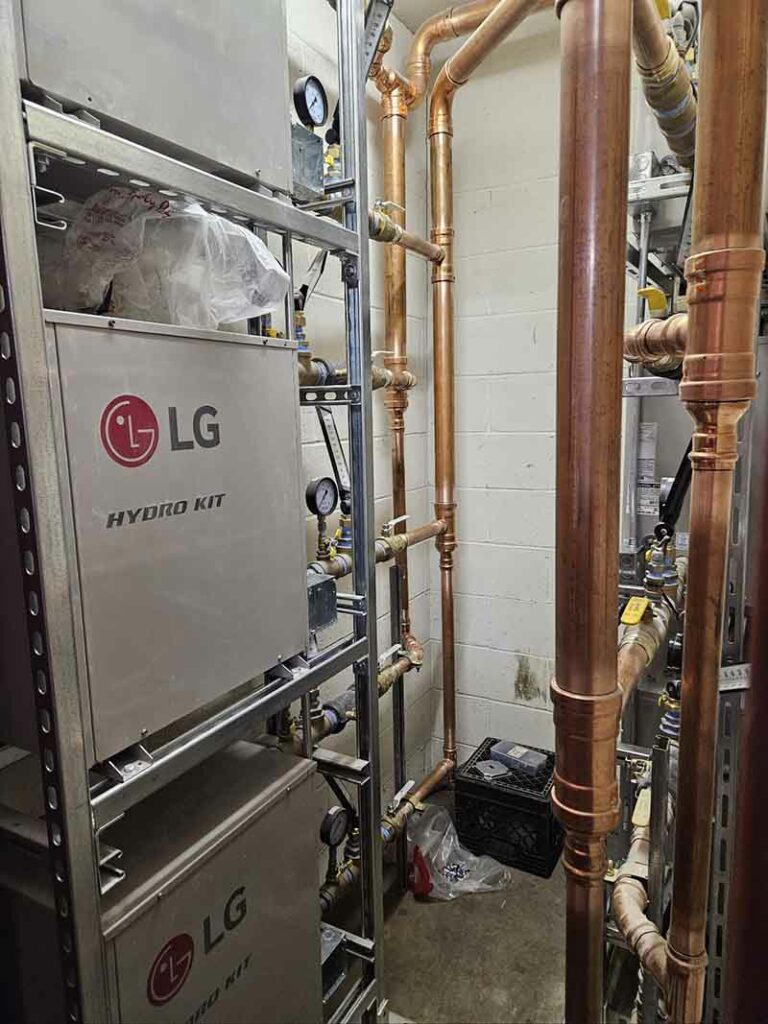 The capacity offerings of the LG Hydro Kits lend themselves to a very flexible way of heating and/ or cooling a building. The medium temp versions come in 3.5 ton and 8 ton sizes. The high temp version is offered in 3.5 ton and 6.5 ton offerings. For larger applications, multiple Hydro Kits can be installed in parallel and staged to maximize efficiency. Additionally, having multiple systems offers some additional level of redundancy over larger central plant systems.
For multi-family buildings, domestic hot water and hydronic heating plants are often central to the building and very difficult to bill their usage out to individual tenants. With smaller Hydro Kit systems, each condensing unit and Hydro Kit can potentially be fed from each tenant's own power meter. This eliminates the cost and responsibility of the equipment from the Landlord and can lower common charges in the rent or building fees. An additional benefit of modular systems for larger buildings is the ability to stagger system operation to reduce demand charges from the utility.
There are several air to hot water heat pump systems offered in the market now. Many of these are what is referred to as 'Mono-Bloc' types where the hot water heat exchanger is outside, attached to the condensing unit. While this may be a plus from the installation side, the downside to this is that glycol will most likely be required in the heating water for colder climates like the Northeast.
The medium temp Hydro Kits have started to replace aging air cooled chilled water systems throughout the New York Metro area. With the modular design and flexibility of piping runs on LG's Multi-V 5 systems, clients have ripped out their small to medium sized chillers, replaced them with LG medium temp Hydro Kits and did not have to touch their existing chilled water air handlers. These systems now offer more redundancy, lower operating cost and take up less space outdoors than previous air cooled chillers. Additionally, the medium temp Hydro Kits can produce lower temperature hot water for radiant heat systems.
Potential Issues and concerns
While the LG Hydro Kits pack a tremendous amount of technology in a small package, keep in mind they are more complicated than a traditional boiler or chiller. Clients should make sure to find an installing contractor and service company with proper training from the manufacturer to successfully install and maintain the system for years to come.
LG's Hydro Kit may require more labor to install over a traditional boiler or chiller as it is a split system. The benefits of the operational cost, environmental impact have to be weighed against any potentially higher upfront costs.
Final Thoughts on Why the LG Hydro Kit is Worth It
The Hydro Kit's innovative technology allows for the efficient use of energy, resulting in lower electricity bills and a more sustainable future while eliminating harmful Carbon Monoxide emissions in the home or business.
With natural gas becoming more difficult to access, the LG Hydro Kit offers the best alternative over the other technologies currently out on the market. Investing in an LG Hydro Kit may seem like a simple choice when looking at all of the short-term benefits that you gain; however, when we consider the long-term environmental impact it has on our planet, this decision suddenly seems much wiser. After all, small changes such as this can have a huge impact — making the LG Hydro Kit more than worth your investment.
If you have any questions, the team at Klima is here to help! To learn more, please visit our website and contact us today!