Founded in 2011, Klima set out with an initial intent of providing customers with the wherewithal and expertise when navigating the complexities of VRF (Variable Refrigerant Flow) systems. After a decade-plus of growth, Klima has cemented itself as one of the leading manufacturing reps in New York. Here's all about how we at Klima did it.
Klima Understood the Importance of VRF Systems
Over a decade ago, Klima solely focused on educating and selling consumers VRF systems. It was important to do so at the time, as other vendors did not provide the service that Klima has become so well-renowned for. Understanding the importance of VRF systems is crucial for achieving optimal energy efficiency and indoor comfort in commercial and residential buildings. Unlike traditional HVAC systems that operate at a fixed capacity, VRF systems dynamically adjust the refrigerant flow rate to match the cooling or heating needs of different zones or rooms, with the help of sophisticated control algorithms and sensors.
Another advantage of VRF systems is their flexibility and scalability, which makes them ideal for both retrofits and new construction projects. VRF systems can be customized to meet specific design requirements, such as high ceilings, open spaces, or multiple occupancy levels, without the need for ductwork, bulky equipment, or complex zoning controls. Moreover, VRF systems can be configured to operate in different modes, such as cooling, heating, dehumidification, or ventilation, depending on the environmental conditions and building usage.
And although VRF systems provide significant energy savings, reduced carbon emissions, improved thermal comfort, and enhanced indoor air quality, Klima eventually realized it was time to expand their product offerings. Soon, Klima began incorporating items such as energy recovery ventilators to supplement their VRF system offerings.
The Opportunity to Expand
Opening the Long Island City Office
Six years after first starting, Klima opened an office space in Long Island City. Housed with the bustling New York City market in mind, Klima offered local stock of equipment and parts for their VRF customers. Moreover, Klima opened up a training facility for LG's VRF systems to provide installation contractors with the knowledge and wherewithal they need to succeed in the field.
"Opening that office and warehouse in Long Island City turned Klima into a real player in the VRF game in NYC."

Brandon Sulikowski – President – Klima New York, LLC
Merging with AES Equipment and Acquiring iCon System Solutions Controls
The expanding product offerings weren't the only indication of growth on Klima's end. 2019 saw the backend expansion of Klima, as they merged with AES Equipment. This merger saw new management and, in turn, new product line offerings. As a result, Klima was able to grow its frontend employee base by hiring some of the most talented professionals in the market.
The growth didn't stop with AES Equipment, either. In 2020, Klima acquired iCon System Solutions Controls — allowing them to expand their controls division, Klima Controls. This division specializes in providing turnkey controls systems of any size for commercial buildings.
"Merging with the guys from AES and acquiring iCon showed me what the best of the best really look like. Having these groups become part of Klima totally raised the bar for everyone at the company."

Brandon Sulikowski – President – Klima New York, LLC
Opening the Melville Office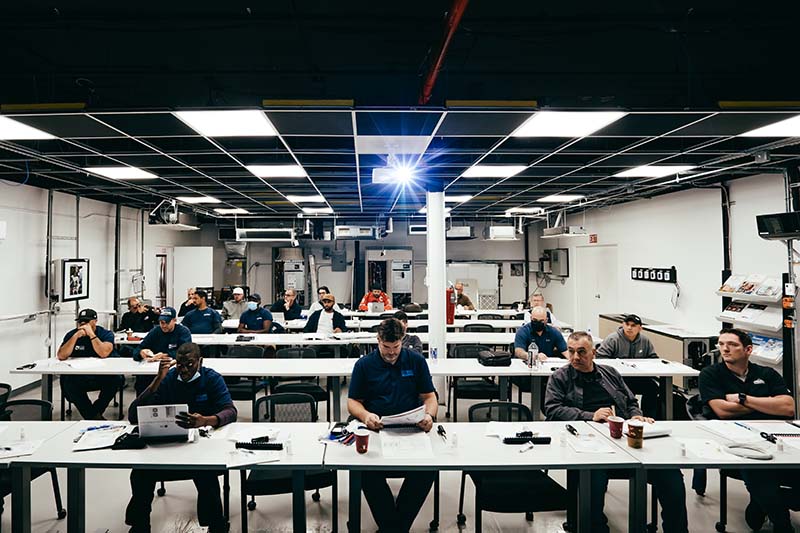 In the year 2022, the company opened a second office in Melville, which marked a significant milestone in their expansion efforts. Their decision to open a second office in Melville is a testament to their continued success and growth trajectory. The new office allowed for them to better serve their customers in the region, while also expanding their reach to new markets throughout Long Island.
Overall, Klima's growth is an impressive testament to their dedication to excellence and commitment to meeting their customer's needs. With their continued expansion efforts and commitment to innovation, they are well-positioned to become the go-to provider of equipment and controls for customers across New York's tri-state area.
"During Klima's first 10 years, the focus was only on New York City. Not only do we have a presence there but now we have an office and training center at the best location in Long Island. Our sign on the building on Route 110 is visible to thousands of passing motorists every day. The Melville office is also a great environment for the employees and you feel that upbeat energy in the office everyday."

Brandon Sulikowski – President – Klima New York, LLC
If you're in need of anything HVAC related, our team of experts will be happy to help! To learn more, please visit Klima's website and contact us today!