Since 2011, Klima New York, LLC has been a leading provider of Variable Refrigerant Flow and Dedicated Outdoor Air Systems. However, after a decade of service in the industry, it quickly became apparent that Klima was in need of a rebrand.

The rebranding includes a renewed strategy and updated digital presence, both of which reflect the company's commitment to providing innovative climate control solutions. Klima's dedication to quality products and customer service remains unchanged, and the company looks forward to continue serving its customers with excellence.
What led to Klima's rebrand?
Beginning in 2022 and continuing into 2023, Klima recognized that their platform needed reworking to keep up with the ever-changing environment. As a result, they rebranded, utilizing modern technologies and forging partnerships with innovating leaders in their industry.
Still providing clients with Variable Refrigerant Flow and Dedicated Outdoor Air Systems that will be better equipped for future advancements, Klima's renewed focus aims to serve the same customer base while also welcoming a younger generation with open arms.
In discussing Klima's rebrand, President Brandon Sulikowski revealed, "Klima brought on additional ownership and management." He further added that "The company was 10 years old and we wanted to make sure we were not alienating the younger generation of customers in the market."
With this rebrand, Klima is able to remain trend-focused and offer their clients top quality systems so they can stay ahead of the curve.
What is Klima's mission?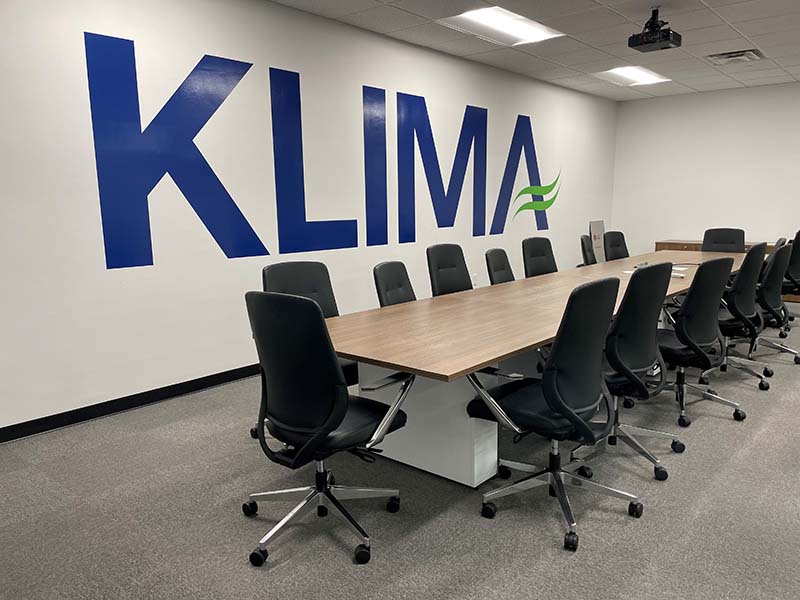 Klima has focused on rebranding in order to solidify their vision as a company. Their mission is to be a leading provider of Variable Refrigerant Flow and Dedicated Outdoor Air Systems, offering customers the most reliable, efficient and cost-effective solutions for their HVAC needs.
On the topic of their mission, Sulikowski said, "Klima's mission is to become the #1 manufacturer's rep firm in the New York Metro area, but we want to earn that title by building brand loyalty through customer service."
Through their dedication to innovation and rebranding, Klima can provide customers with the highest quality products, backed by the best customer service. With their renewed focus on rebranding and customer satisfaction, Klima can help customers achieve their HVAC goals while also providing an experience that differentiates itself from other providers within this field.
Who is Klima's target audience?
Sulikowski further added that "Klima's target audience are the engineers, contractors and building owners with a passion for what they do in this industry." The Klima President also noted that "We live and breathe supporting HVAC equipment and controls sales and we want customers who are dedicated to delivering the same values to their customers."
What separates the old Klima from the new?
The rebrand from Klima to its new iteration represents a significant shift in how the company approaches its product selection. The old Klima only offered Variable Refrigerant Flow (VRF) and Dedicated Outdoor Air Systems (DOAS), but now they are taking the spotlight on rebranding and introducing much more than those two product offerings.
"The new Klima brings a wider offering of products and expertise. While the old Klima was successful with a laser-focus on only VRF equipment sales, the new Klima is taking the same customer-focused mentality and applying it to a larger variety of products and services, including controls," said Sulikowski.
Under their rebranded identity, they have incorporated newer technologies. Their rebrand has positioned Klima as an industry leader in HVAC technology, providing unmatched energy savings and superior system performance.
What processes/systems has Klima implemented in light of the rebrand?
In light of rebranding, Klima has implemented a number of processes and systems to ensure their customers have the best experience possible. For years, Klima has specialized in Variable Refrigerant Flow and Dedicated Outdoor Air Systems and have developed innovative solutions for these products.
"We have made an internal shift to focus on more quality deliverables to customers and raised the bar internally on ensuring the quality of our service and project management is living up to the name we want Klima to represent," Sulikowski stated. "The old Klima handled a lot of volume, but the new Klima will operate with more focus and attention to detail — even if that means lower volume."
Klima's rebrand is aimed at providing customers with an even greater experience than before, by further improving customer service, offering higher quality products, and refining their offerings to match clients' unique needs. To facilitate this rebrand, the company has established processes and systems which will assist us with meeting the rebranded objectives of providing exceptional customer service, quality products and tailored services.
Dissecting Klima's internal and external perception
Rebranding for Klima was not only a massive step for their front-facing appearance, but also internally. Amidst the rebrand, Sulikowski noted the differences between Klima and their competitors — as the latter tends to focus on profits over customer service and loyalty.
Sulikowski elaborated: "Our internal brand perception is that we are the good guys trying to do right by the customers while some of our competitors tend to navigate chasing profits rather than customer loyalty."
So how does this translate externally? As Sulikowski further noted, "Our goal for our external brand perception would be for Klima to be viewed as the sales organization offering the best value and highest level of expertise in the industry. We want to be known as the company that people can trust in and rely upon for equipment and controls needs."