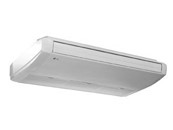 Ceiling Suspended
Ceiling suspended indoor units in large capacities. When large capacities are required these ceiling suspended indoor units deliver to cover large areas.
Features & Benefits
Operation:
Auto changeover (Heat Recovery only)
Auto operation
Auto restart
Child lock
Dual thermistor control
Forced operation
Group control
High ceiling
Hot start
Self diagnostics
Sleep mode
Timer (on/off)
Weekly schedule
Soft dry (dehumidification)
Airflow
Auto direction/swing (up/down)
Auto direction/swing (left/right)
Fan speed control
Chaos wind (random fan speed)
Jet cool (fast cooling)
Filter
Controllers
7-day programmable controller
Simple controller with mode
Simple controller without mode
Wireless handheld controller
Models
We offer the following models in this product line. Have a question on which model fits your needs? Get in touch with us.