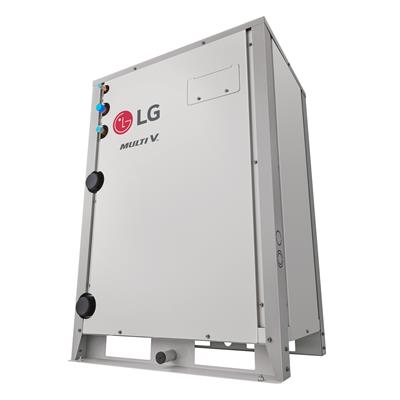 Multi V Water Cooled Condensers
LG Multi V Water 5 systems permit synchronous cooling and heating in different zones at the same time. Units are available from 6 tons to 48 tons.
Features & Benefits
The Multi V Water 5 product line is LG's advanced water-cooled VRF system. Multi V Water 5 systems are designed to provide the benefits of VRF – lower operational costs per year, minimal or no duct work to purchase or install, tenant comfort with zoning while maintaining architectural integrity. No need to place any units outdoors.
Available in 208-230V with sizes ranging from 6 – 36 tons, and in 460V with sizes ranging from 6 – 48 tons
Unified heat pump or heat recovery units
AHRI 1230 certified
Installed indoors for a cleaner building exterior
Compact size to fit in small mechanical rooms
Front pipe connections allow easier installation
Stackable units (with field-supplied racks)
Stainless steel plate heat exchanger for condenser water, with built-in temperature sensors
Models
We offer the following models in this product line. Have a question on which model fits your needs? Get in touch with us.