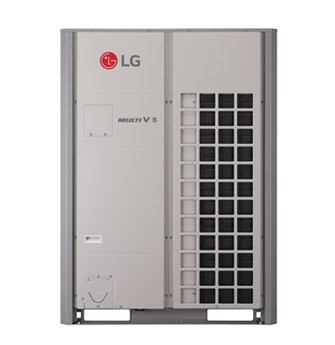 Multi V Condensers – 3 Phase
Available from 6 to 42 tons, with a choice of three-phase 208-230V or 460V-480V, or 575V (Canada only) electrical power as heat recovery/heat pump outdoor units with that provide continuous operation down to -22˚F.
Features & Benefits
Multi V™ 5 comes standard with LGRED° heat technology and features an expanded operating range for continuous operation in ambient conditions down to -22°F and cooling up to 122°F making it a robust solution for all climates.
NOTE: Our current technical documentation reflects our latest product offering which includes Multi V 5 with LGRED°. Multi V 5 with LGRED°, is anticipated to begin shipping in March of 2019. For previous generation Multi V 5 equipment bearing a serial number with an 8 or lower in the sixth digit, please refer to this link for pertinent technical documents.
e.g.: xxxxx8xxxABxxCxxxDE
With the largest tonnage in a single frame, operating sound levels among the lowest in the industry, along with various technology features which provide operational and energy efficiencies.
Expansive operating range – provides all climate comfort with continuous heating performance in ambient conditions down to -22°F and cooling up to 122°F
Industry-leading VRF technology
Smaller and lighter weight design – reduces footprint requirements but also helps to reduce installation costs
Advanced Smart Load Control – proactively addresses the impact of pending weather changes ensuring optimal comfort for all building occupants
Intelligent Heating Technology – works to prevent frosting and defrosts as needed rather than responding once frost has reached a preset point
Biomimetic fan design – enables the unit to operate more efficiently and increase airflow while reducing the perceived noise level by approximately 20%
Models
We offer the following models in this product line. Have a question on which model fits your needs? Get in touch with us.