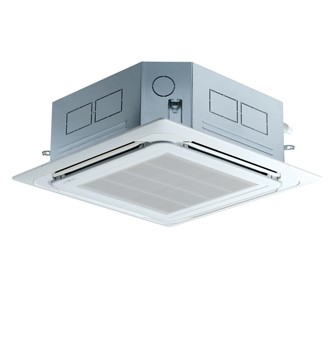 4-Way Cassette
The ceiling-cassette indoor units in these duct-free split heat-pump systems provide comfort in large, open spaces. Duct-free installation with an aesthetically pleasing indoor unit design. The four-way controlled louvers and fan speed features on these ceiling cassette indoor units allow for even air distribution.  Easy control through the included wireless remote or optional wired wall-mounted controller.
Features & Benefits
Auto changeover (Heat Recovery Only)
Auto operation
Auto restart
Child lock
Dual thermistor control
Dual setpoint control
Group control
High ceiling
Hot start
Self diagnostics
Timer (on/off)
Weekly schedule
Filter life and power consumption display
Auto direction/swing (up/down)
Fan speed control
Swirl wind (alternating vanes)
Jet cool (fast cooling)
Multiple aux heater applications
Models
We offer the following models in this product line. Have a question on which model fits your needs? Get in touch with us.