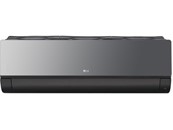 Art Cool Mirror Multi Zone Duct-free system
Art Cool™ Mirror indoor units feature sleek, mirror-finished indoor units. Choose from models with capacities from 9,000 to 22,000 Btu/h.
Features & Benefits
Art Cool™ Mirror duct-free systems feature sleek, mirror-finished indoor units, and outdoor units with energy-efficient Inverter technology.
Single zone systems that feature an innovative design and high efficiency levels. The mirrored wall-mounted indoor units allow for easy installation, while the majority of systems in this line achieve ENERGY STAR and tax credit qualifications.
4-Way auto swing
24-Hour on/off timer
Auto restart
Auto changeover
Built-in low ambient standard, down to 14°F (cooling mode)
Chaos wind
Condensate Sensor Connection
Energy saving
Inverter (variable speed compressor)
IDU compatible with Multi F ODU
Jet cool/Jet heat
3M Micro Dust Filter
Self-cleaning indoor coil
Sleep mode
Ultra quiet operation
Cooling only function
Models
We offer the following models in this product line. Have a question on which model fits your needs? Get in touch with us.