Ductless mini splits are an efficient way to heat and cool many homes and even certain commercial and multi-unit housing applications. They can be an effective replacement to conventional HVAC systems. Since its first introduction decades ago in Asia, mini splits have made innovative and technological changes to become an ideal solution in today's market and growing in popularity for good reason. 
Ductless mini splits are composed of two primary components – an outdoor condensing unit, which contains a compressor and one or more indoor air handlers (the evaporators).  A conduit that houses the power cable, refrigerant liquid and suction tubing link the outdoor and indoor unit(s). All indoor units are powered by the outdoor unit single phase power. These systems require 208V/1 phase electrical power although there are some smaller 115V systems available with certain brands.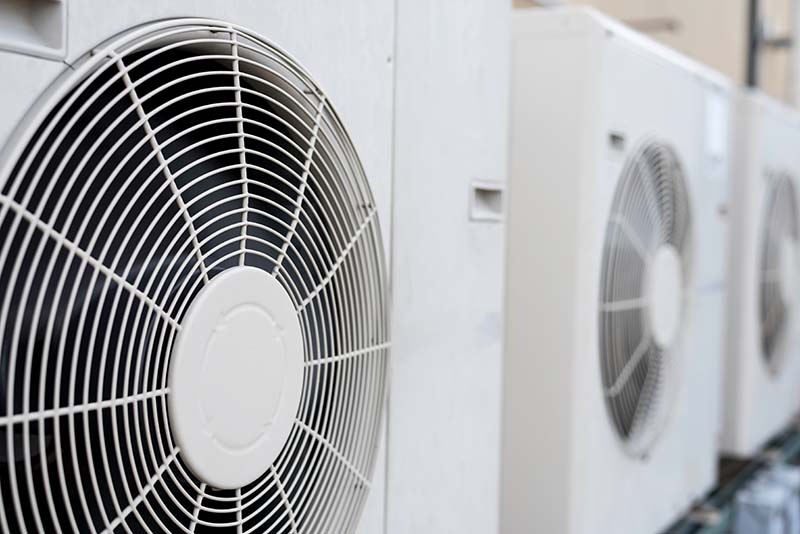 Analyzing the Benefits of Ductless Mini Splits
Cost Savings
Overall cost savings could arguably be the top reason people research and choose ductless mini splits. Ductless mini splits have some of the highest energy efficiencies in the industry. They use less energy, lowering monthly utility costs for a quicker payback. The upfront cost of installation is also typically lower than traditional systems. Precise customizable temperature settings in each individual zone create not only personalized comfort in all rooms, but also savings whether occupied or unoccupied. There are also a wide range of Energy Star rated mini splits that qualify for rebates and incentives.
Energy Efficiency
Energy efficiency and high performance are added benefits of ductless mini splits. Inverter variable speed compressor technology uses less energy and is measurably quieter than conventional systems. Unlike conventional systems that cycle on and off, an inverter compressor ramps up or down to match the capacity needed to maintain comfort levels within the conditioned zone(s).
Additionally, this greatly enhances the ability to efficiently dehumidify and increase air quality by running the fan longer. Ductless mini splits eliminate efficiency losses in ductwork due to leaks and conduction as well as the need to consume more energy to make up for the efficiency losses. There are models offered by some manufacturers that perform in extreme weather conditions as a reliable primary heat source. The shift to using electricity rather than burning fossil fuels like gas and oil reduces the carbon footprint, making these systems more environmentally friendly.
Ductless Mini Splits Are Easy to Install
Ductless mini splits offer design flexibility and easy installation. It can be both ducted and ductless in single and multi-zone configurations to meet the design needs. Ductless mini splits can be used in new construction or upgrade/retrofit an old furnace or heat pump system using the existing duct. It can be added to a home or business that currently does not have air conditioning or heating as the installation is much less invasive. A ductless mini split installation requires only a 3-inch hole drilled in the wall. Hence, they require little to no ductwork and often take less time to install than conventional HVAC systems. Ductless mini splits can supplement an existing system to provide additional comfort and control on room additions or remodeling projects. Smaller indoor and outdoor units ensure space-saving convenience. Moreover, models with long refrigerant piping capability can increase the distance between the indoor and outdoor units, allowing for extra design and installation flexibility.
Are There Any Downsides to Ductless Mini Splits?
While mini splits produce a significant number of benefits and value, there are limitations that need to be considered. All ductless mini splits have piping length and elevation limitations that cannot be exceeded. Typically, the largest multi zone mini split can have up to eight connected indoor units. With that many indoor units, there may be a requirement for branch distribution boxes that need to be installed indoors. Most mini split systems are only available up to 5 tons. The life expectancy of a ductless mini split is anywhere from 10 to 20 years.
Finding a Qualified Installer
Proper installation and accurate load calculations for system sizing are crucial to the potential cost savings and performance of any ductless mini split. Finding a qualified installer and asking the right questions are a must in deciding between potential contractors. Asking how the sizing of the mini split system is determined can help qualify the experience and knowledge level of the installer as well as the amount of utility savings. If not sized correctly, it can lead to a series of ongoing issues and problems. To qualify for local energy rebates and state or government incentives and tax credits, an installer must be EPA certified and approved by certain local energy partnership programs. Knowing this information prior to installation is very important.
Another question to ask a potential installer is if they are certified by the equipment manufacturer they intend to install. Installers are typically required to complete training classes and be certified by the manufacturer to qualify for extended warranties and install their equipment. Make sure to ask for the installer's certificates from the manufacturer to see how current they are. Inquire about the product warranty and the warranty process. The length of the warranty speaks volumes for the quality of the product itself. Depending on the manufacturer, warranties can range anywhere from 5 years and upwards to 12 years when registered by an approved and certified installer.
While many homes have conventional HVAC systems, that is not the only type available in today's market. Ductless mini splits provide a variety of benefits and values. It is an excellent, efficient, and innovative technology that can transform your home or light commercial application. Ductless mini splits are a good investment with exceptional year-round comfort and can be the ideal solution for both heating and cooling.
Klima Can Help with All Your Ductless Mini Splits Needs
At Klima, we offer innovative and integrated HVAC solutions for all your needs. If you're looking for help regarding ductless mini splits and installation, please contact your Klima Sales representative for pricing and availability at this link. To learn more about our work and how we can help, please visit our website and request a quote by clicking the button at the top right corner today!