Location
Hudson Square/Soho West New York, NY
WeWork needed a more integrated HVAC solution that could deliver more effective temperature control based on individual tenant needs without compromising the open design of the new space or adding to office noise levels.
A pioneer in the design, construction and management of coworking office space for small businesses and startups, WeWork provides boutique office space, shared and collaborative workspaces and unique services to small business communities in New York, Los Angeles and San Francisco.
Since launching in 2009, WeWork has quickly grown from an innovative concept to one of the premier providers of cutting-edge start-up communities to these key markets. With eight buildings and over 5000 members in 2013, WeWork continues to build great spaces that empower startups and connect small businesses to one another.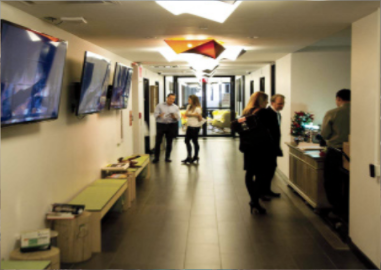 Unique Building Retrofit Poses HVAC Challenge
Establishing WeWork collaborative work environments often involves retrofits of existing buildings. In 2012, WeWork identified a 75,000 square foot space in New York's up and coming Hudson Square/Soho West nighborhood to renovate for shared office space, in addition to housing WeWork Labs, the company's networking and support
organziation for start-ups. The project involved the careful renovation of a historic 10-story building located at 175 Varick Street, originally constructed in 1927. One of the key components of the retrofit was replacing an out-dated HVAC system comprised of self-contained vertical units on each floor of the building, including a maintenance room required to operate the system.
"The previous HVAC system was not only loud and inefficient, but also took up valuable floor space," said WeWork's Head of Communications, Karly Venuto. "We realized fairly quickly that we needed a more integrated HVAC solution that could deliver more effective temperature control based on individual tenant needs without compromising the open design of the new space or adding to office noise levels."
In collaboration with mechanical engineers at Guth DeConzo Consulting Engineer PC, the WeWork construction team determined that a Variable Refrigerant Flow (VRF) system was the best solution to satisfy these goals, while working within the constraints of the building's historic architecture and construction.
"The best HVAC solution for WeWork's Varick Street location was undoubtedly a single system that could provide zoned temperature control to work spaces of varying sizes without a lot of ductwork or taking up existing floor space," said Matt DeConzo, principle of Guth DeConzo Consulting Engineer, PC, "We knew that we wanted to install a roof-top VRF system, however, given limited roof space for condensing units and extreme piping lengths required to reach each floor, we faced some significant challenges."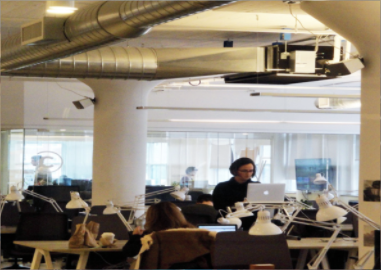 Multi V Raises the Bar for High Rise Application
After meeting with representatives from top manufacturers, the project team identified an LG Multi V VRF solution as the top contender, meeting all of the requirements and more. LG's Multi V III Heat Pump system was the only solution that could fit within the limited footprint on the rooftop and offer both horizontal and vertical piping distances required to deliver custom temperature control to more than 50 individual zones on multiple floors of the building.
"The ease of piping, design and lay-out were big differentiators for the LG Multi V III solution," added DeConzo. "The compact footprint combined with robust piping capabilities of the Multi V system design easily met our needs for an application where traditional direct expansion AC systems would struggle, or simply not allow."
In addition to performance, design and sizing benefits, the LG solution delivered another important differentiator – technical and logistical support. In partnership with local representative, Klima New York, LG assisted with both contractor training and installation support during the process, including a hands-on training course for the mechanical contractor at a nearby LG Training Academy location. This was an integral component due to another unique challenge, an unusually aggressive construction schedule.
Due to tenant needs, WeWork required a phased, floor-by-floor renovation approach, with the initial floor to be completed in just eight weeks, less than half the usual time allotted for projects of this size. Multi V's modular design proved to be an asset for this renovation approach, allowing for stand- alone installation on various floors to match the retrofit schedule.
Using LG's AC Smart control system, each floor could also be added to the centralized system as it was completed, without compromising temperature control or comfort for anyone working in the building.
And upon project completion, the central control enables scheduling, monitoring and troubleshooting of all individual floors and zones as a unified building system.
"While flexible system design and control features were key factors in keeping on pace with the aggressive construction schedule, the hands-on training with our mechanical contractor was also invaluable," said Nino Bosco, head of construction for WeWork. "These components all contributed to completing a nearly impossible construction schedule and allowing occupancy of the spaces much faster than we could have achieved with any traditional HVAC solution."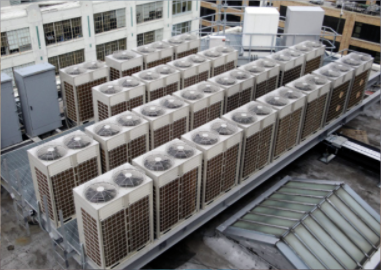 Ready to become our next success story?
You don't have to take our word for how versatile, dependable and rugged our products are or how great our service is. Take a look at some real examples of Klima products and systems in use by our customers.
VIEW ALL PROJECT PROFILES